My first love in photography is in fact the street/reportage/journalism end of the spectrum,
and it's been a real pleasure now that I've some landscape/travel type stock sorted for my Photo Tour Brugge life to come back to people-centric shooting a little more this year.
An awesome moment came up a few days ago during the Brugge Braderie (street fair) last weekend, street theater duo Bonpardon as pink police being naughty! That day I had my Fujifilm X-E2 and 10-24mm wide lens on hand, scored a few decent results it seems.
So, instead of just picking out the favorite for sharing and 'best of' galleries or whatnot, I thought I'd walk you through what went down and what I was thinking. These aren't ALL the shots (that would get boring) and yes they've been run through Lightroom for simple edits or a bit of cropping etc.
Hope this helps you to work the moment a bit more deeply!
(I'm calling the "officer" with the hat Pink Cop 1, fella with the helmet Pink Cop 2.
Also, click an image to enlarge.)
It Went Down a Little Something Like This…
I see a crowd gathering and noise that's indicates some sort of performance is going on. I head over and see these two fellas, local comedians Bonpardon, starting up a show.
First decent shot is not a killer, but I'm pleased with how Pink Cop 1 in the foreground is looking to his partner and the lines of the buildings and perspective seem to carry it down. Not a prize-winner, but capable.
Alright, a little action and story is unfolding, even if mostly foreground. Pink cop 1 has picked his "target" to lay the moves on to. I wish you could hear the music in these photos…
Skipping ahead a bit, Pink Cop 2 is definitely giving me a visual story to tell! It's all happening fast here, and at this point I'm crouching down for a fresh angle, which in this case worked out quite nicely… If slightly naughty as a story, ESPECIALLY with a kid staring at waist level the way he is…
OK, more fast-moving hilarity as the fake-ish striptease continues, and zooming in to change it up a bit. I do that as I'm aiming for some variety in composition, which in this case added to the intimate/busy vibe but certainly not as strong as the previous shot.
Move around, move around, move around. If the zoom isn't cutting it for another take on the situation, get into a spot that does! In this case, results in a fun moment that fills in the wider story of the hilarity at hand.
Things are wrapping up, no NSFW content because obviously this was all very (or at least mostly) innocent fun, no need to call the other officers of the law. This moment of expression on Pink Cop 2 well worth a some room on my memory card for later consideration…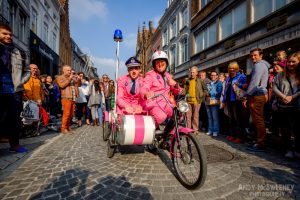 Back on the bikes and off to the next stop, this is where I definitely want a defining shot of these guys! Fortunately they gave some very fine looks to my lens (the 1st shot in this series is also from this end) and the Photo Gods keep people out of my way or looking good in the frame.
Remember all this time (especially when they start moving again) that there's a crowd all around me. Be safe and watch where you're stepping, keeping an eye on your wallet and loose gear is never a bad idea either.
But which one is the keeper?
After the shoot and the edit, the most critical thing for any photo(s) to succeed is that to keep the amount presented to a bare minimum, as in one or (maybe) two photos make the final cut.
Why? Because otherwise I'm boring my friends, and that's when it's all for nothing. 
If I was going for one overall shot to tell the story, it would be them on the bike, crowd taking them in and them giving some awesome expressions. The two I included in this series, one where Pink Cop 1 is looking away vs. looking right at the camera, are nearly identical so it's a bit of a tough call.
In the end, I'd go with the one where Pink Cop 1 is looking away from the camera, feels more natural and the look on his face (and his partners') is just awesome.
Don't forget though: I'm a photographer on the loose, so as far as the final choice it's my call. If this was for a client or newspaper I'd submit the series and they could decide, but today it's me shooting for me (partly to share with you) so there it is.
Hope that helps, let me know your favorite of the series in the comments, or feel free to share any stories of spectacular passing moments that you may or may not have gotten a few great shots out of!
Category

Blogs, Brugge, Events, Tips & Tutorials

Tags

Belgium, Bruges, Brugge, performers, pink, pink police, police, Steenstraat, street, street photography