So, there's this Madonna and child statue in Brugge.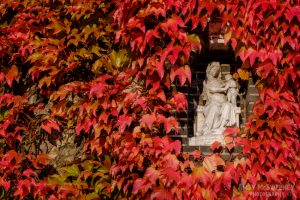 I'm talking a very particular Madonna out of the 350+ in this medieval city (including a Michelangelo no less!), one that I both love personally as a photographer and make use of regularly for Photo Tour Brugge.
She's not my absolute favorite Madonna (if you're wondering) but certainly in my top 3 , mainly for these awesome leaves produced by the ivy that surround her. That ivy is a blessing and a curse, a blessing in the way that it looks lovely year-round but a curse when it grows over and blocks the view of her face and often with an accompanying hard shadow. Photographers tend to hate hard shadows and blocked faces…
Anyways, for the last couple of weeks she's been covered, so even without the shadow aspect there is not an angle to be had with a clear shot of her face. Frustrating, but not the end of the world.
So today, I knocked on the door of the nice lady (Caroline) who lives in the connecting building, which admittedly took zero confidence since I've seen her here and there when passing by with the photo tour. After some nice hellos and catching up a bit, I asked nicely if she'd mind if I trimmed a few leaves on the statue, if she had a ladder and clippers on hand great but happy to pass by with those if needed.
Long story-that-I-help-shows-where-simply-asking-pays short, after 15 easy minutes of climbing and clipping I had a madonna filled with sun head to toe and, especially with 50 people to host tomorrow for the Brugge end of Worldwide Photowalk Day 2015, ready to shine out her photo-possibilities to the masses.
Moral: It's all possible, sometimes all you have to do is ask.
Sure, this is a very certain situation (with a ladder and clippers no less!) and I have the advantage of both living here and having Photo Tour Brugge as an excuse to be confident in asking. Saying that, I could show you a 100 photos like the With The Monks or People in India that wouldn't have happened if I hadn't simply asked, and there was certainly no special advantage to me involved.
On the street, in the buildings, or simply in a moment of life you're trying to catch with the camera, it takes some sort of effort to get what (and sometimes where) you need to get for the shot. Don't be shy, that old saying is there for a reason:
Fortuna Audaces Iuvat: Fortune Favors the Bold"
– Old latin proverb
Enjoy This Gallery or Tutorial or Podcast or Live Show of Andy's?
Andy's This Photo Life:
Twice monthly podcast via
Apple Podcasts
-
Spotify
-
Google
-
Stitcher
-
Youtube
Andy's Photo Show
: Live every Sunday at 8pm CET and welcome to  join via
Facebook
and/or
Youtube
Coming to Brugge (Bruges) Belgium? Why not join me as Photo Tour Brugge?
Where to Next?
Home - Photo Galleries - Tips & Tutorials - Podcast & Live Video